Raising funds & promoting great causes
At Access Communications, giving back to the communities we serve is a full-time job. We're proud to support over 1,500 community groups. We support these groups by volunteering our time, by providing sponsorships and by promoting their events and programs on AccessNow TV. But we also take things a step further and champion important causes through our fundraising events.

Whether it's a telethon to save our furry friends or hosting 5,000 car enthusiasts to support the local food bank, we believe in doing our part to raise not only money but awareness. Our charitable partners do important work in the community and as a co-operative, it's our responsibility to lend a hand.
See below for where to find us at Access sponsored events around the province!
Access Water Park Pool Party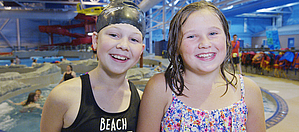 Hey Yorkton! Come out to the Access Communications Water Park on Sunday, February 19th for a fun free pool party with your friends at Access and the Yorkton Terriers!
Date: Sunday, February 19, 2023
Time: 11:00 am - 3:00 pm
Location: Access Communications Water Park, Gallagher Centre, Yorkton
• Complimentary lunch on Access
• FREE Water Park entry from 11am - 3pm!
• Grab some awesome Access swag
• Enter to win a sweet prize basket (valued at $150)
• Wear your best beach attire!