Coverage

Walk room-to-room on a FaceTime call, stream your favourite 4K content or download a large work file - all at the same time.
Optimization

Unlike other mesh network systems, Smart Wi-Fi+ continuously learns about your Internet needs and performs advanced self-optimizations.
Control

Use the HomePass by Plume app to set parental controls, limit guest access, schedule Internet freezes, and more.
Security

Smart Wi-Fi+ filters out suspicious content, monitor devices and even block ad content, improving your browsing experience.
Take control of your network like a pro, with one of the best Wi-Fi solutions!*
Give your Wi-Fi a boost.

Experience fast, reliable, and consistent Internet throughout your home with an adaptive mesh Wi-Fi system that continuously learns about your needs and performs advanced self-optimizations, allocating capacity to devices that need it most. And it gets better each day!

Cover your house from backyard to basement.

For additional coverage, pods plug straight into the wall - no cables required.

Control your Wi-Fi from anywhere.

See and manage all devices connected to your network and balance screen time with scheduled Internet freezes, temporary time outs and enhanced parental controls.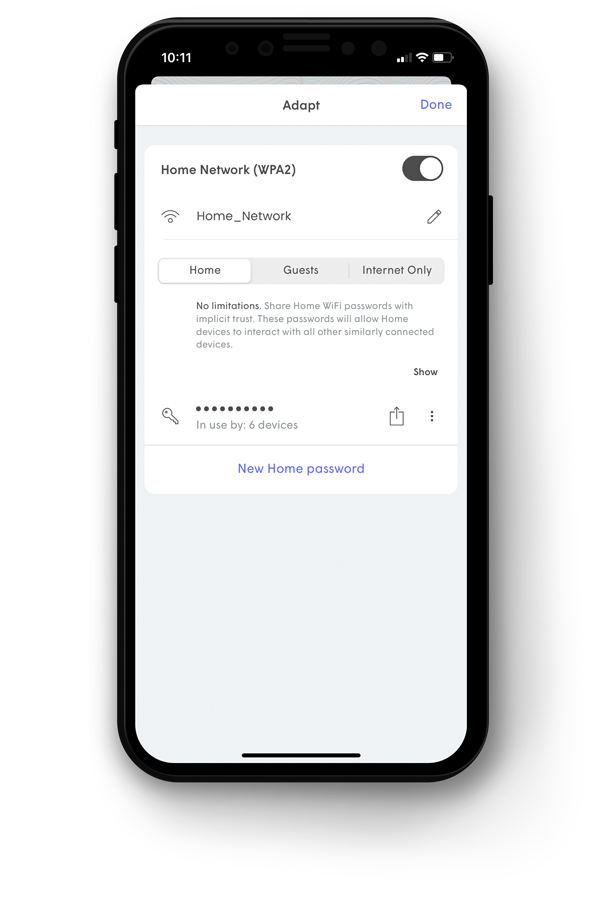 Customize your network
Change the name and password for your Wi-Fi network.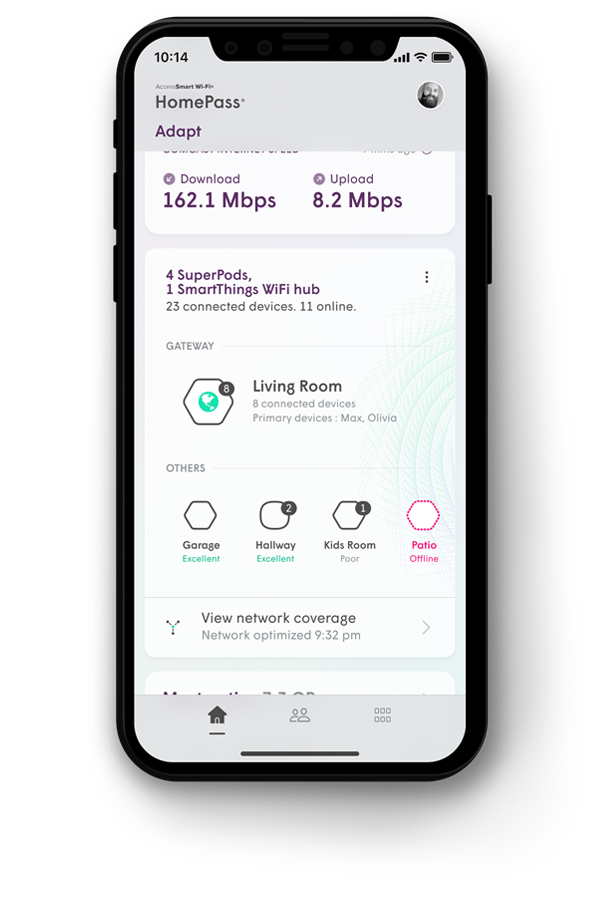 Signal quality
Check the quality of the signal in your home and between the pods.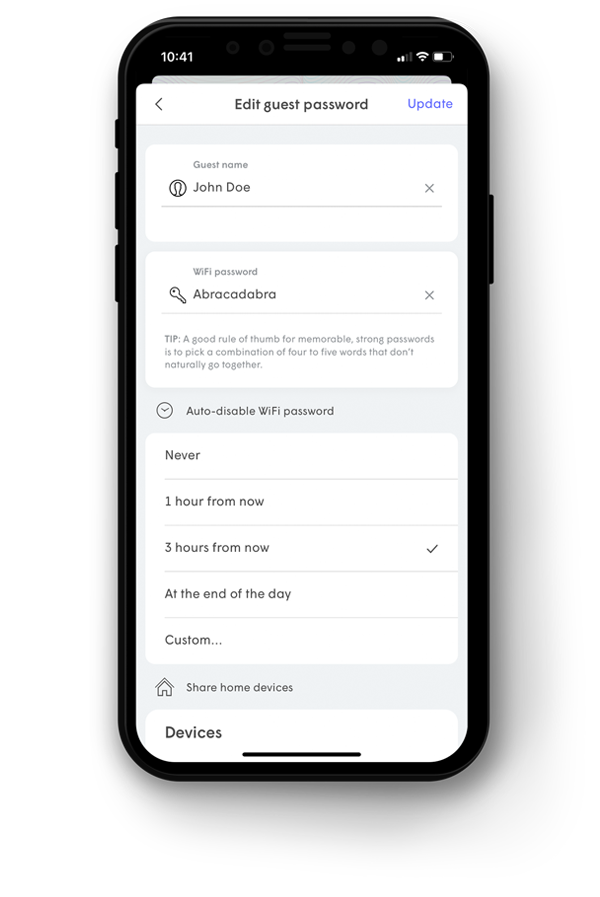 Guest access
Create custom passwords for each guest and choose which connected devices they can access.
Protect your devices.

Keep your network safe with protection from cyber-attacks, filters that block unwanted ads, parental controls, and even the identification of equipment that can cause problems on your home's network.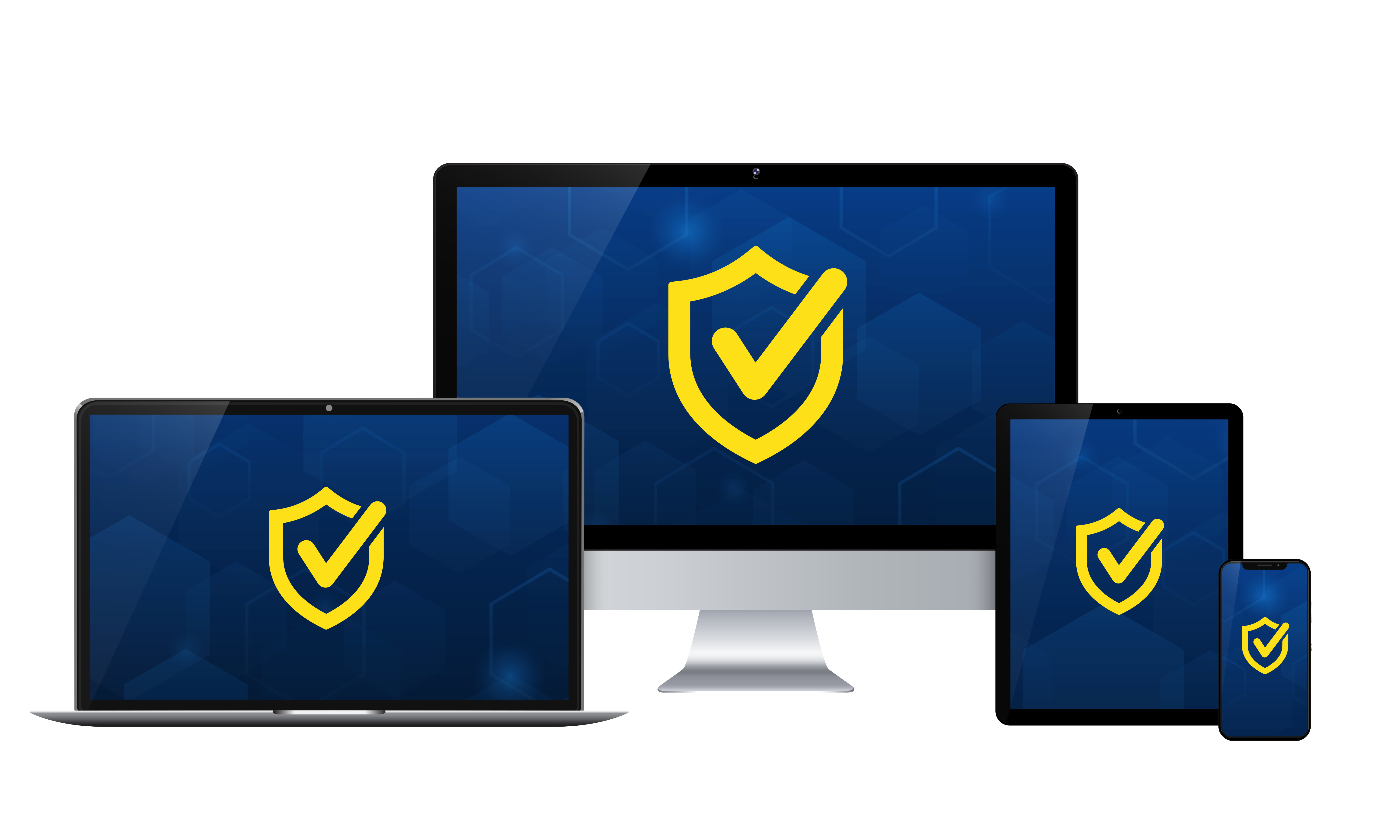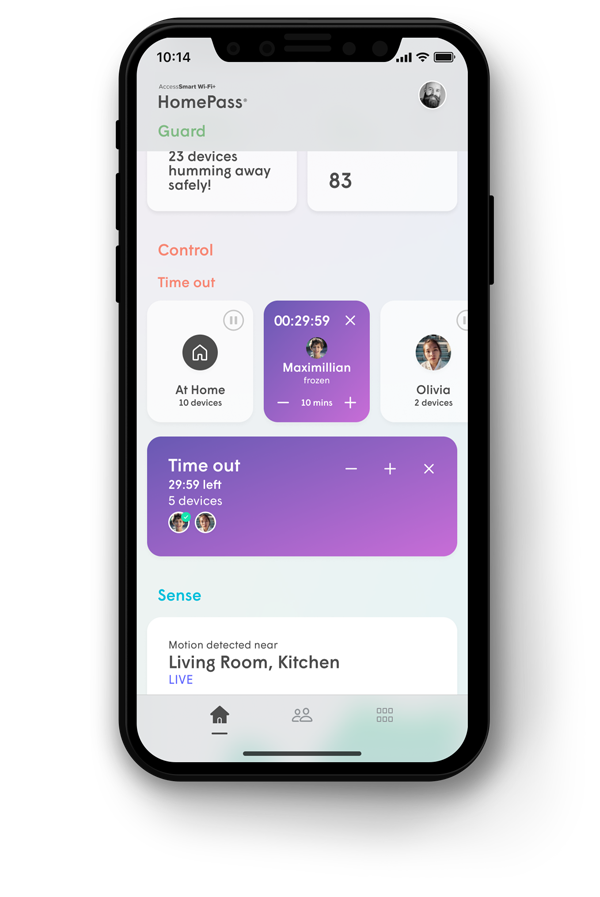 Parental controls
Create usage rules, schedule Internet freezes and filter inappropriate content.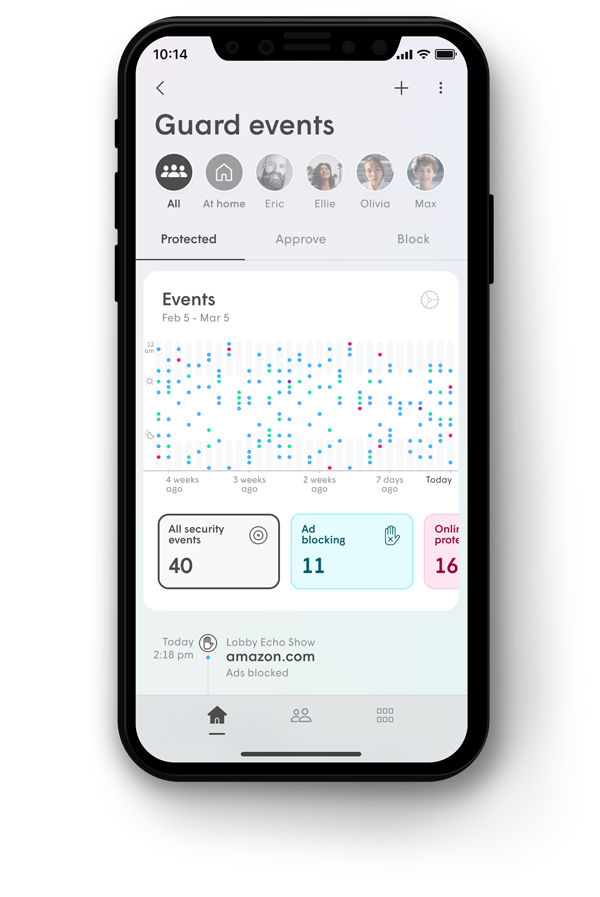 Cyber security
Protect yourself from online threats and block unwanted advertising.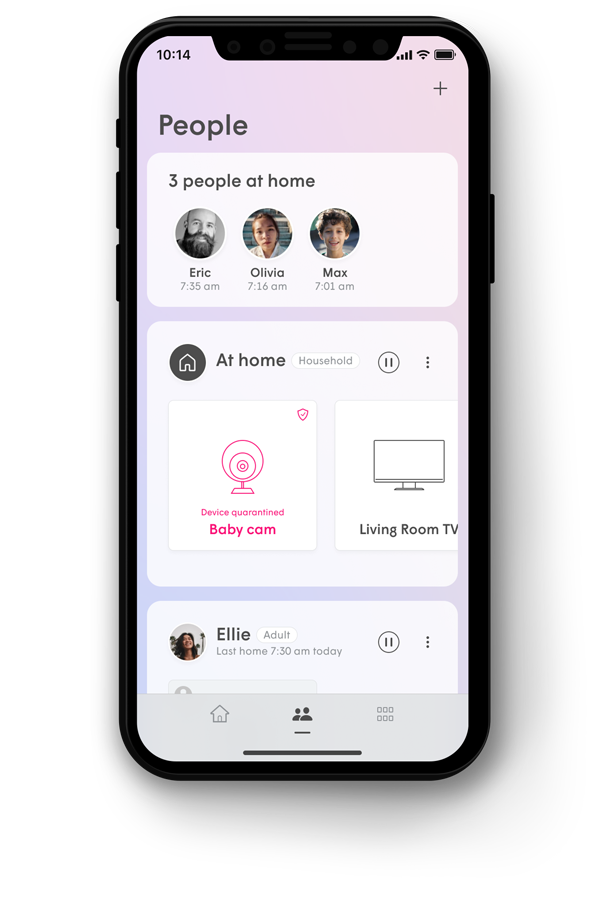 Smart home protection
Protect your smart home or home automation equipment from computer threats.
Secure your home.

Set motion alerts for when you're out, detect potential intruders, and motion in areas where cameras may not be wanted.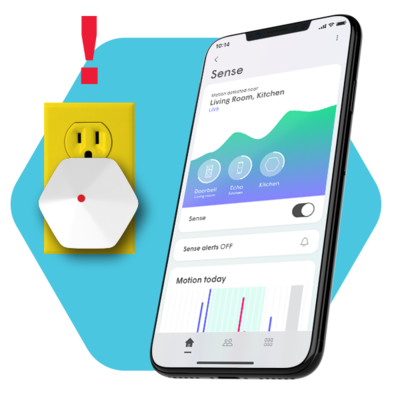 Which Wi-Fi solution is best for you?
Need help choosing the right Wi-Fi for your home? Here's a quick comparison between our different services.
BASIC
Included with service

ENHANCED
Starting at 6.95/mth

PREMIUM
Starting at $9.95/mth

Basic Wi‑Fi

Smart Wi‑Fi

Smart Wi‑Fi+

Wi-Fi connectivity
Automatic network optimizations

With adaptive and proactive cloud-based technology

See, manage, and control Wi-Fi
With the award winning HomePass by Plume app**
Parental controls
Diagnose and test internet speeds
Guest access controls
With different levels of restriction
Customize user profiles and access
Intelligent protection against cyber-threats
Automatic ad blocking
IoT protection
Whole-home motion awareness
Total network activity views

Advanced parental controls with pre-defined filters

Cable-free mobile superpods
Plume SuperPods
Plume SuperPods are cable-free and can be moved throughout your home, just plug them directly into an outlet in the area you want more coverage and you're ready to go!
Key Features
Tri-band, tri-concurrent radio operation

Dual 100/1000 Base-T Ethernet ports with autosense WAN or LAN config

100 to 240 VAC, 50 to 60 Hz power source

NAT, DHCP server, UPnP, client IP reservation, port fowarding

Managed 2.4 GHz and 5 GHz single SSID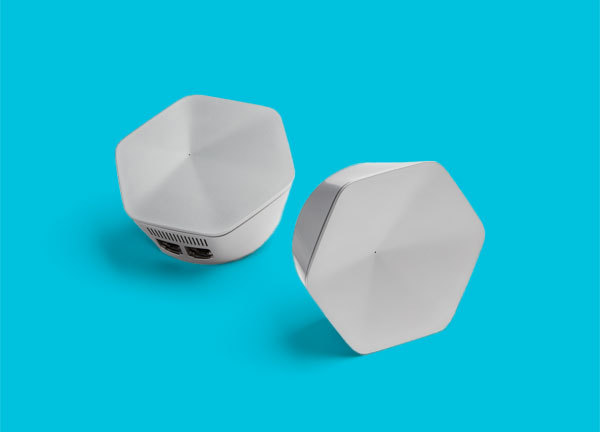 Access

Smart Wi-Fi+
Starting at$4.95/mth for Smart Wi-Fi+ app and subscription.
Pods available to rent for $5/mth or purchase at $129.95/pod.
We're here for you.

Our stellar Customer Care team is always available to help you if you need any technical support.
Frequently asked questions
Shop online Call 1-866-363-2225
or tell us a few things about yourself below and we'll call you back within 48 hours (during business days) to get you set up.
Taxes extra. App subscription, minimum of one pod and AccessInternet are required.
Internet download and upload speeds specified on the Access website or in any promotional material and documentation provided by us represent maximum attainable speeds under optimal conditions. Access does not guarantee that these speeds will be always attainable or in all locations.
Advanced cyber security features help protect connected devices; however, you are ultimately responsible for the security of the devices you connect to, the content accessed from, and the data transmitted on the internet. The home network management, content filtering, parental controls, internet and/or Wi-Fi access controls, network security, and other related network management tools included with AccessSmart Wi-Fi+ powered by Plume HomePass® are not guaranteed and may experience disruption, inaccurate or inconsistent results, and other limitations impacting performance.
Not all Access Communications' packages, services and hardware are available in all regions.
Offers subject to change without notice. All Access Communications' services are subject to our Terms and Conditions and our Privacy Policy.
*HomePass by Plume® rated 4.4 stars in App Store. **Best Service Provider Wi-Fi Solution winner at the Wi-Fi NOW Awards 2022 . Plume, Plume Adaptive WiFi, SuperPod and HomePass are either trademarks, or registered trademarks of Plume Design, Inc.