TV has come a long way over the decades, from the olden-day tubes to today's top-tech; and, Access Communications has always been proud to help lead the way. That longstanding tradition continues with the next big thing in entertainment… AccessNexTV Stream has arrived.
Break free from traditional TV and watch your way with AccessNexTV Stream. Unlike regular TV, AccessNexTV Stream is an app that works across your compatible devices: smartTVs, cellphones, tablets, Android, Apple, FireTV, you name it. And, best of all, it allows you to watch live TV or video on demand anytime, anywhere.1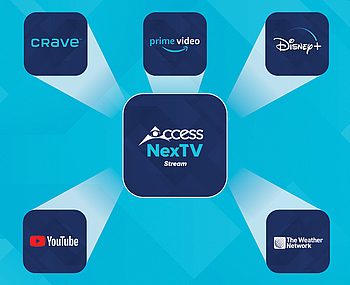 Next level thinking.
Watch TV at home or on the go across all your connected devices. You'll only need one set-top box in your home, and setup is super-fast, super-intuitive, and super-easy.
Record the shows and movies you can't miss with Cloud PVR.
Watch on your time across all your authenticated devices. Plus, unlimited simultaneous recordings mean you'll never get one of those pesky recording conflict messages again. Choose the storage size that works best for you.
Catch up and restart.
Did you forget to record a show or event? Don't sweat it. With the catch up and restart functions you can go back up to 72-hours and watch in an instant.2
Just say it and play it.
AccessNexTV Stream includes Google Assistant voice control on your remote. Just speak into your remote and AccessNexTV Stream will scour all streaming apps and channels to find what you're looking for.
A new addition to your Google Home network.
AccessNexTV Stream is ready, willing, and enabled to link up as part of your Google Home network. Connect to Google Home and you can play music and videos with a simple voice command.
Everything in one place. Isn't that neat?
At the touch of a button, you'll find your streaming apps and live TV in one neat and tidy place on the AccessNexTV Stream set top box. Plus, you can customize by adding more of your favourite apps from the Google Play Store.3
You're the VJ and the DJ.
AccessNexTV Stream allows you to easily cast videos, photos, and audio directly from your tablet or phone to your TV.4
AccessNexTV Stream is an app-based video platform that works over the internet. Because of this, the internet speed you subscribe to along with the wireless signal strength in your home are important to the quality of your experience. AccessNexTV Stream requires a minimum internet speed of 10 Mbps and 25 Mbps is recommended for optimal viewing. Higher speeds are recommended and a 4K TV is required for 4K streaming where available from third party apps.
1AccessNexTV app can be accessed anywhere within Canada. Supports up to 15 streaming devices, 5 in home streams, 3 out of home streams, maximum of 5 active streaming devices per account and maximum of 2 concurrent streams per channel, AccessNexTV Stream set top boxes are not included in this count. Some channels are not available for out of home streaming and some content is not available for streaming due to copy protection assigned by the program provider.
2Restart TV availability is based on content rights from the channel provider.
3A separate subscription to third party apps is required to view content. Access to network apps available on TV connected to AccessNexTV Stream set top box only. Some apps including Netflix are not supported on the AccessNexTV Stream set top box.
4Casting of Netflix is not supported at this time.