Blog
Tips for a Safer 2020 Holiday Season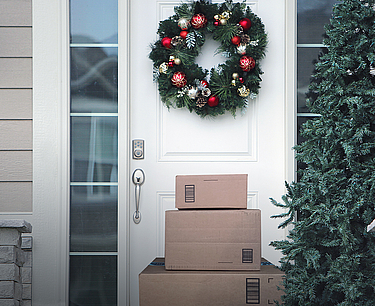 Stuck inside our homes this season, many of us are choosing online gift shopping over braving crowded spaces. That means more packages left on doorsteps everywhere, offering porch pirates an easy target.
Don't worry: this doesn't mean you have to risk heading to the stores to avoid leaving gifts on your stoop. Powered by Alarm.com, the AccessSmartHome system with a doorbell camera and smart lock can help secure your deliveries seconds after they arrive—and once they're in your house, too.
Here are a few simple steps you can take to ensure that your gifts end up in the right hands this year.
1. Know exactly where your packages are
It's worth keeping an eye on your packages during the shipping process. Signing up for text alerts with arrival dates and delivery notifications will give you a sense of when to look out for them, so you can get them inside.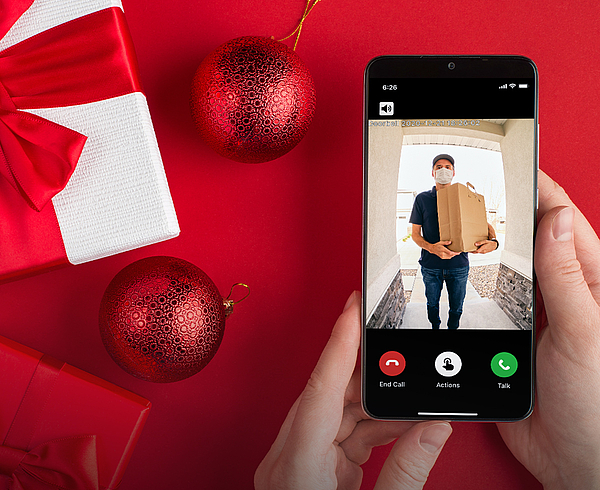 With a video doorbell, you'll know when your packages arrive, even if you're not home. Open your Alarm.com app to view a live video of the delivery person, say hello, and ask them to leave the package in a specific place.
For extra protection, you can use your smart lock to unlock your front door and turn off the security system so that they can leave the package inside your house. Once the package is safely inside, use your app to lock up again.
2. Keep holiday burglars at a distance
Most of us worry about our homes being more attractive to burglars during the holidays. Create the opposite effect this year by installing a security system with video cameras: a setup that's proven to deter potential thieves.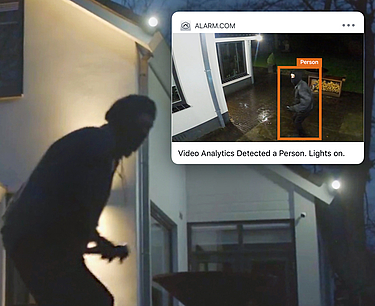 Look for a system that can alert you to suspicious activity around your home, not just to a break-in. Video analytics can send you detailed alerts that let you know if a moving object outside is either a person, animal or vehicle.
It can also trigger your home's indoor and outdoor lights when a person or vehicle is detected, making intruders visible and indicating that someone is home.
3. Don't forget about little ones on the prowl
If you're a parent, you know that kids have a talent for searching for hidden items. You can give their gifts a little extra protection with a contact sensor on the door to any closet where gifts are hidden. You'll get an alert when your detectives get a little too close to solving the mystery, giving you time to catch them and save the surprise.
Want to protect your holidays with AccessSmartHome?
No matter who you're guarding your gifts from, a professionally installed and monitored security system brings you extra peace of mind this holiday season and all year round.
That's the gift you deserve. To get started, give us a call at 1-866-363-2225 or click here to learn more.